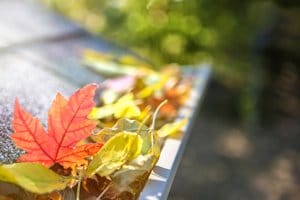 Once the coldest months are here, maintenance on your home will be a much tougher task to tackle. This is because HVAC technicians are usually booked to the brim during this time of the year and the temperatures outside are unbearable. Beat the cold weather by tending to these fall home maintenance tasks right now.

Check Below Your House
Take a look in the crawl space below your house and check for any signs of standing water. This can be a breeding ground for mold, which can negatively affect your home's indoor air quality if left unchecked.
Check Above Your House
In addition to checking for any damage to the chimney, look for damaged or missing shingles. Don't forget to clean gutters and downspouts, too. These may have become clogged by debris throughout the summer.
Switch the Direction of Ceiling Fans
Although you may only use the ceiling fan in the summer, it's useful in the fall as well. Switch it to run clockwise and the fan will redistribute heat from the furnace or other heating equipment by pushing it downward.
Test the Standby Generator
Even if you don't live in an area where blackouts or brownouts are common, it's a good idea to have a backup generator. When fall arrives, test it out to make sure it works properly.
Add Insulation
If the attic, basement or exterior walls are short on insulation, heat will leak out. This will cause heating equipment to run more frequently, so it's always a good idea to add insulation in various spots in the house that need it so you can save money.
Schedule Maintenance
Heating systems run the gamut from furnaces and heat pumps to fireplaces and space heaters. Schedule an HVAC technician to take a look at your heating system before the freezing cold arrives. In many cases, they'll be able to improve its performance so you can reduce you heating costs during the winter. And nothing beats being comfortable and cozy when the temperatures dip.
For more expert fall home maintenance tips or any other home comfort advice, please contact the friendly professionals at Winkelman Heating & Air Conditioning. We've been serving the HVAC needs of Dumas, Dalhart, Straford and surrounding areas since 1981.
Image Provided by Shutterstock.com