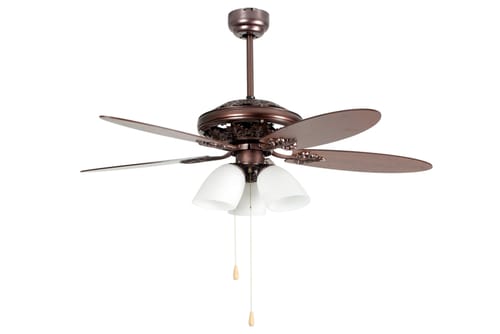 Consider using ceiling fans for summer energy savings in your Dumas area home. You should be able to meet your home's cooling needs with properly placed fans and save money on your energy bill. Ceiling fans are the most effective type of circulating fan, because they effectively move the air in a room, creating a draft. This helps to keep occupants cool and comfortable when used along with or instead of your A/C system. Ceiling fans typically surpass the performance of floor fans, table fans, fans on poles or fans mounted on walls. All these types of circulating fans, however, can be energy-efficient and effective alternatives to A/C.
What Size Fans and Blades Work Best?
For rooms up to 225 square feet, a 36- or 44-inch diameter fan should work well. If your room is larger, install a 52-inch diameter fan or larger. You could also use multiple fans if the room is longer than 18 feet. You can cool an area of 4 to 6 feet in diameter with a small- or medium-size fan. To cool up to a 10-foot diameter area, choose a larger fan.
Larger ceiling fan blades can cool the area at a lower speed than smaller blades. This is important in rooms or areas where you have loose paper or other small and lightweight objects that could be blown away by a strong breeze from your fan. You should also consider the overall look of the room when choosing the size and style of fan. Large fans may draw too much attention and dominate or overpower small rooms.
Where to Install Ceiling Fans
Try installing ceiling fans in every room that has ceilings of 8 feet high or more. Ceiling fans work best when the blades are 7 to 9 feet above the floor and 10 to 12 inches below the ceiling. Fans blades should be at least 8 inches away from the ceiling and 18 inches away from the walls when using ceiling fans for summer energy savings.
Mounting the Ceiling Fan
Make sure to connect your ceiling fan to the metal box above your ceiling marked for ceiling fan use. You may need to replace the outlet box if there was another type of fixture in the same spot before. Ceiling fans are generally heavy, so if possible, anchor your fan securely to a ceiling joist. If no joist is nearby, use a ceiling fan mounting bracket between joists.
How to Use Ceiling Fans Effectively
Choose a high-efficiency fan: Look for the Energy Star label, which appears on fans that operate an average of 20 percent more efficiently than standard new models.
When using your air conditioner, try raising your thermostat 4 degrees or so to save additional energy. You should not feel any reduction in your level of home comfort. On moderately hot days, a ceiling fan might be able to replace your central air-conditioning.
Turn off the ceiling fan when you leave a room because these fans cool people, using the wind chill effect, but don't cool the air in the room.
Adjust your ceiling fan seasonally. In summertime, the fan should spin counterclockwise. You should feel a cool breeze when standing directly below when you're using ceiling fans for summer energy savings. In winter, flick the switch to reverse the fan's motor, operating it in the clockwise direction. Set it at low speed. This creates a mild updraft, forcing warm air from your heater (that has risen up near the ceiling) back down into the room where it is needed.
Other Important Ceiling Fan Features and Operation Tips
Consider the noise factor: More expensive fans may operate more smoothly and quietly offering less distraction along with more comfort and durability when using ceiling fans for summer energy savings. For best results, listen to the ceiling fan in operation before buying it. At the very least, check the noise ratings in the product description online or written on the box.
To balance a wobbling ceiling fan: After installation, make sure connections are aligned correctly and that the fan and blades are securely fastened. Check the alignment using a yardstick held vertically along blade edges. Carefully try bending misaligned blade holders into place. A balancing kit with clips and blade weights may be provided with the fan or can be requested from the manufacturer free of charge.
For more energy efficiency and HVAC product tips, contact Winkelman Heating & Air Conditioning. We've served the Stratford area for nearly 35 years.